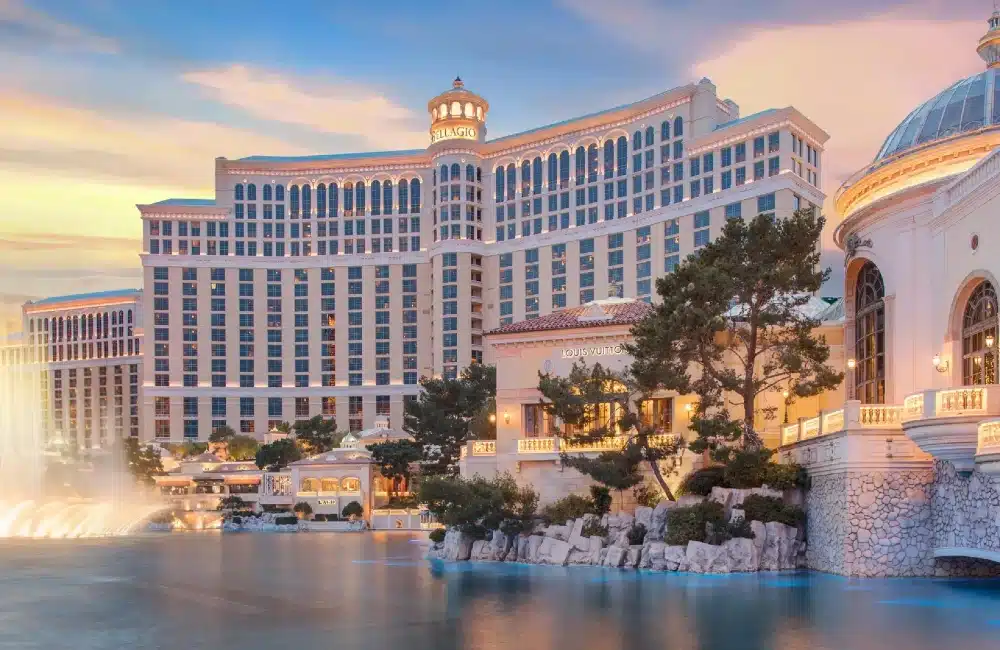 Bellagio Hotel Review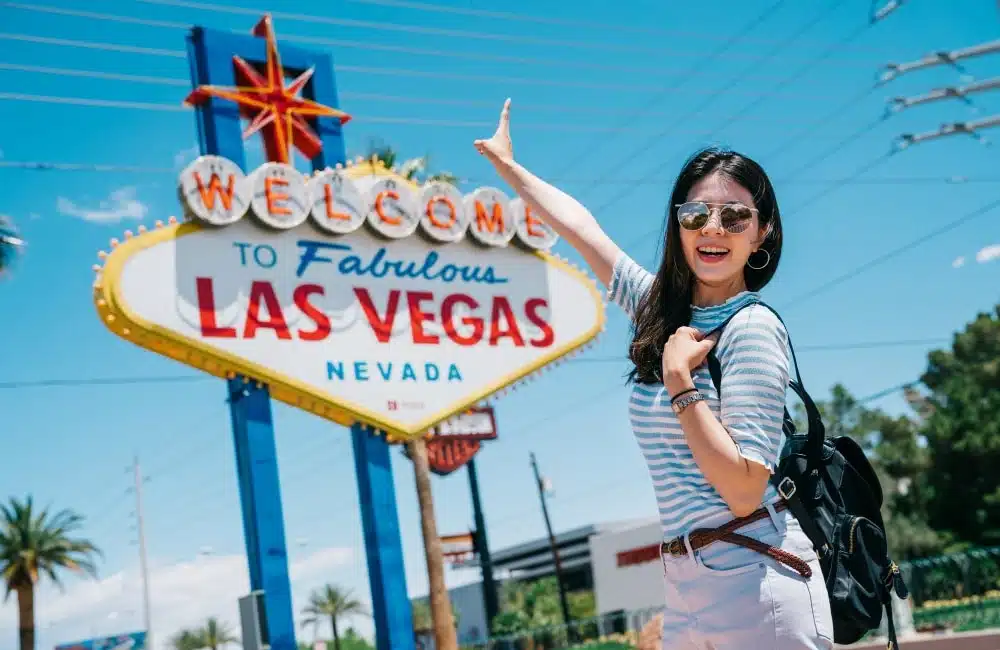 How To Visit Las Vegas Solo

Wynn & Encore Hotel Review

How To Get A Casino Host

Caesars Palace Hotel Review

Free Things To Do In Vegas

Cosmopolitan Hotel Review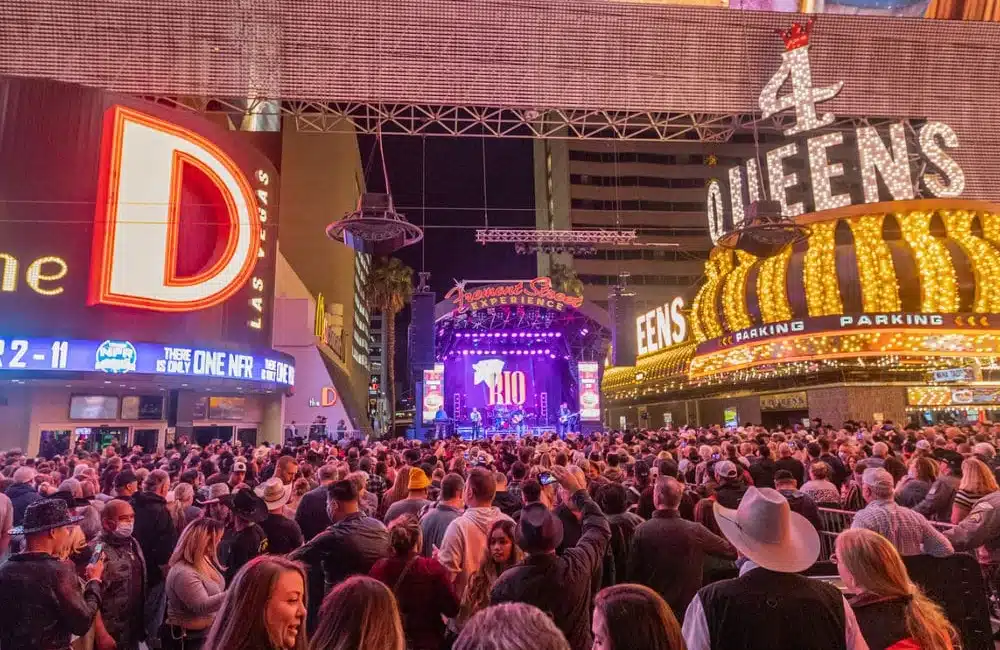 Fremont Street Experience

Resorts World Hotel Review
Overview of Las Vegas & What's On Vegas.Review
In-Depth Attraction Guides
Las Vegas is one of the most iconic destinations in the world known for it's glitz, glamour and 24/7 entertainment atmosphere. On Vegas.review, we help you before, during and after your visit to Vegas by providing you with detailed and informative guides on where to stay, what to eat and what to do in the city while on your vacation. Below you'll find an overview of Vegas history, some key points on the Las Vegas reviews we cover, as well as common Vegas questions.
The Fascinating History of Las Vegas
Las Vegas, Nevada, known as "The Entertainment Capital of the World," has a fascinating history, marked by periods of rapid growth, transformation, and the establishment of its unique identity.
Las Vegas was first inhabited by Paiute tribes around 7000 BC. Spanish explorers traversed the area in the early 19th century, and by 1829, it had become a significant rest stop for traders en route to California. The name "Las Vegas" means "The Meadows" in Spanish, referring to the green fields that once existed due to artesian wells.
In 1844, John C. Fremont, an American explorer, led an expedition to the valley, and his detailed accounts attracted numerous pioneers to the region. A decade later, in 1855, Mormon missionaries established a fort as a midway point between Salt Lake City and Los Angeles, though the settlement was short-lived.
Las Vegas truly began to take shape in 1905 when the San Pedro, Los Angeles, and Salt Lake Railroad arrived, creating a bustling railroad town. It was officially incorporated as a city in 1911. When the construction of the Hoover Dam began in 1931, it brought an influx of workers and businesses to Las Vegas, stimulating its economy during the Great Depression.
1931 also marked the legalization of gambling in Nevada, a pivotal moment in Las Vegas history. Small casinos and speakeasies sprang up, sowing the seeds for the future gaming industry. The completion of the Hoover Dam in 1936 further spurred growth, as the new source of hydroelectric power attracted more residents and businesses.
The post-WWII era heralded a transformative period for Las Vegas, with the advent of mega-casinos and luxury hotels, largely financed by East Coast organized crime families seeking to legitimize their earnings. The Flamingo, opened by mobster Bugsy Siegel in 1946, was the first of these grand establishments.
The 1960s and 70s saw corporate interests gradually replacing the mob's influence, leading to even larger casino-resorts. Howard Hughes was a prominent figure during this period, purchasing multiple properties and pushing for corporate ownership. The era also solidified Las Vegas as an entertainment hub, attracting legendary performers like Elvis Presley and Frank Sinatra.
In the 1980s, the city expanded beyond its original downtown, with entrepreneur Steve Wynn opening The Mirage on the Las Vegas Strip. This marked the beginning of the modern Las Vegas, known for its opulent resorts, such as the Bellagio, Venetian, and the MGM Grand.
Las Vegas faced a significant challenge during the 2008 financial crisis, which led to a downturn in tourism and the housing market. However, the city has since rebounded, continuing to reinvent itself with new attractions and experiences.
Despite its reputation for adult-oriented entertainment, Las Vegas has also developed attractions for families, such as the Discovery Children's Museum and the Shark Reef Aquarium at Mandalay Bay. It has also expanded into professional sports, with the arrival of the National Hockey League's Vegas Golden Knights and the National Football League's Las Vegas Raiders.
Today, Las Vegas is a global icon, renowned for its vibrant nightlife, entertainment, and gaming industry. Its history is a testament to the city's resilience, adaptability, and enduring appeal.
Vegas Strip, Entertainment, Dining & Attractions
The Iconic Las Vegas Strip
The Las Vegas Strip, a 4.2-mile stretch of South Las Vegas Boulevard, is the heart of the city's entertainment district. The Strip boasts a collection of luxury hotels, casinos, and resorts, each offering a unique experience to its visitors. Some of the most iconic properties include the Bellagio, the Venetian, the Mirage, and Caesars Palace, each featuring their own theme and attractions.
The Bellagio, famous for its spectacular fountains and elegant atmosphere, houses an impressive collection of fine art and a beautiful botanical garden. The Venetian, a homage to Italy's romantic city of Venice, features canals with gondola rides, a replica of St. Mark's Square, and a world-class shopping experience. The Mirage, with its tropical rainforest and iconic volcano show, is a must-see. Caesars Palace, reminiscent of ancient Rome, offers guests a taste of opulence with its Forum Shops, an indulgent spa, and the Colosseum entertainment venue.
Las Vegas Entertainment: Shows, Concerts, and Nightlife
Las Vegas is often referred to as the "Entertainment Capital of the World," and for good reason. The city boasts an incredible array of shows, concerts, and performances to cater to every taste. From the gravity-defying acrobatics of Cirque du Soleil to the mesmerizing magic shows of Penn & Teller, there is something for everyone.
Some of the most iconic shows in Las Vegas include the Blue Man Group, a unique blend of music, comedy, and multimedia; the stunning aquatic performance of Le Rêve at the Wynn; and the legendary residency shows of world-renowned artists such as Celine Dion, Elton John, and Lady Gaga. For free concerts, the Fremont Street Experience in Old Vegas offers some of the best free live performances found in the city.
The nightlife in Las Vegas is equally impressive, with a vast selection of nightclubs, bars, and lounges catering to every mood and preference. Party the night away at the likes of Hakkasan, Omnia, or Marquee, where top DJs spin the hottest tracks, or unwind with a cocktail at an upscale lounge like the Chandelier Bar at the Cosmopolitan.
World-Class Dining
Las Vegas has evolved into a food lovers paradise, offering a diverse range of culinary experiences. The city is home to numerous celebrity chefs and award-winning restaurants, making it a gastronomic destination that rivals the likes of New York, Paris, and Tokyo. Whether you're seeking the opulence of a Michelin-starred meal or the comfort of an all-you-can-eat buffet, Las Vegas caters to every taste and budget.
Some of the city's most notable dining establishments include Joël Robuchon at the MGM Grand, where the legendary French chef offers a sumptuous, multi-course culinary experience; Guy Savoy at Caesars Palace, another acclaimed French restaurant with a focus on seasonal ingredients; and é by José Andrés, an intimate and avant-garde dining experience with a tasting menu that takes diners on a gastronomic journey.
For those looking for a more casual experience, Las Vegas is also home to countless buffets, old-school diners, and food courts offering dishes from around the world. A trip to Las Vegas wouldn't be complete without indulging in one of the city's famous buffets, such as the Bacchanal Buffet at Caesars Palace or the Wicked Spoon at the Cosmopolitan. Another popular option is Gordon Ramsay Burger inside Planet Hollywood which offers up some of the celebrity chef's favorite burger receipes.
Shopping and Attractions
Las Vegas is a shopper's dream, with a plethora of high-end boutiques, sprawling malls, and eclectic souvenir shops. The Forum Shops at Caesars Palace, The Shops at Crystals, and the Grand Canal Shoppes at The Venetian offer luxury retail experiences with designer brands like Louis Vuitton, Gucci, and Chanel. For a more budget-friendly shopping experience, the Las Vegas North Premium Outlets and the Fashion Show Mall provide a vast array of brands and styles.
In addition to its world-famous entertainment, dining, and shopping, Las Vegas also offers a wide variety of attractions for all ages. Families can enjoy the Adventuredome at Circus Circus, a five-acre indoor amusement park with roller coasters and carnival games. Thrill-seekers can brave the Stratosphere Tower, which boasts adrenaline-pumping rides like the SkyJump and the Big Shot. For a more cultural experience, visitors can explore the Neon Museum, which celebrates Las Vegas's vibrant history through its collection of vintage neon signs, or the Mob Museum, which delves into the city's notorious past.
Welcome To Our Guide
Las Vegas, a city that truly never sleeps, offers an unparalleled experience for its visitors. With its iconic Strip, world-class entertainment, decadent dining, and diverse attractions, there is something for everyone in this desert oasis. Whether you're seeking a weekend of indulgence, a family adventure, or a romantic getaway, Las Vegas is a must-visit destination that promises to create lasting memories. So pack your bags, and get ready to immerse yourself in the excitement, luxury, and wonder that is Las Vegas.

Frequently Asked Questions About Visiting Las Vegas
In addition to our history and overview of Las Vegas, we've also compiled some of the most common frequently asked questions that visitors have about the city. If you're looking for specific details we highly recommend checking out our hotel reviews, attractions guide, top lists and how-to guides for more detailed and in-depth tourism information.
What is Las Vegas famous for?
Las Vegas is famous for its casinos, vibrant nightlife, world-class restaurants, luxury hotels, and top-notch entertainment options. It is often called the "Entertainment Capital of the World."

When is the best time to visit Las Vegas?
The best time to visit Las Vegas is generally from March to May and September to November, when the weather is more moderate. However, keep in mind that Las Vegas is a year-round destination, and there's always something happening.

What are the top attractions in Las Vegas?
Some of the top attractions in Las Vegas include:
The Strip: The 4-mile long stretch of Las Vegas Boulevard, lined with hotels, casinos, and entertainment venues.
Fremont Street Experience: A pedestrian mall with a LED canopy, offering free live entertainment and light shows.
Bellagio Fountains: A mesmerizing water and light show set to music, located in front of the Bellagio Hotel & Casino.
High Roller Observation Wheel: The world's tallest observation wheel, providing stunning views of the city.
The Mob Museum: An interactive museum showcasing the history of organized crime in America.
Red Rock Canyon National Conservation Area: A beautiful natural area offering hiking, rock climbing, and scenic drives.
Is Las Vegas family-friendly?
While Las Vegas is known for its adult-oriented activities, there are plenty of family-friendly attractions and activities as well. These include theme parks, museums, aquariums, and outdoor recreation options. Some popular family-friendly attractions include:
Adventuredome Theme Park: An indoor amusement park with thrill rides, roller coasters, and arcade games.
Shark Reef Aquarium at Mandalay Bay: A large aquarium featuring numerous species of marine life, including sharks, rays, and sea turtles.
Discovery Children's Museum: A hands-on museum designed for children, offering interactive exhibits and educational programs.
Springs Preserve: A 180-acre cultural and nature attraction, featuring botanical gardens, trails, and museums.
How do I get around Las Vegas?
The most popular ways to get around Las Vegas include walking, using the Las Vegas Monorail, taxis, rideshare services, and buses. Renting a car is also an option, especially if you plan on exploring areas outside of the city.

What are the best areas to stay in Las Vegas?
Some of the best areas to stay in Las Vegas include the Las Vegas Strip, Downtown Las Vegas, and the Arts District. Each area offers different amenities, attractions, and accommodation options, so it's essential to consider your preferences and budget when making a decision.

Are casinos the only form of entertainment in Las Vegas?
No, Las Vegas offers a wide variety of entertainment options beyond casinos. You can find live music, comedy shows, theater performances, nightclubs, world-class restaurants, art galleries, and much more.

Is it safe to visit Las Vegas?
Las Vegas is generally safe for tourists, but as with any major city, it's essential to be aware of your surroundings and take precautions to protect yourself and your belongings. Stick to well-populated areas, avoid walking alone at night, and keep your belongings secure.

Do I need a car in Las Vegas?
A car is not necessary if you plan on staying within the city, as there are multiple transportation options available. However, if you plan on exploring the surrounding areas, renting a car can be a convenient choice.

What is the legal gambling age in Las Vegas?
The legal gambling age in Las Vegas is 21 years old. This age limit applies to both casino gaming and sports betting.

What are the best hotels to stay at in Las Vegas?
Although it's subjective, I would recommend The Linq and Planet Hollywood for budget conscious travelers, MGM Grand and NYNY for mid-range, and The Cosmopolitan, The Bellagio and Wynn & Encore for high-end accommodations.