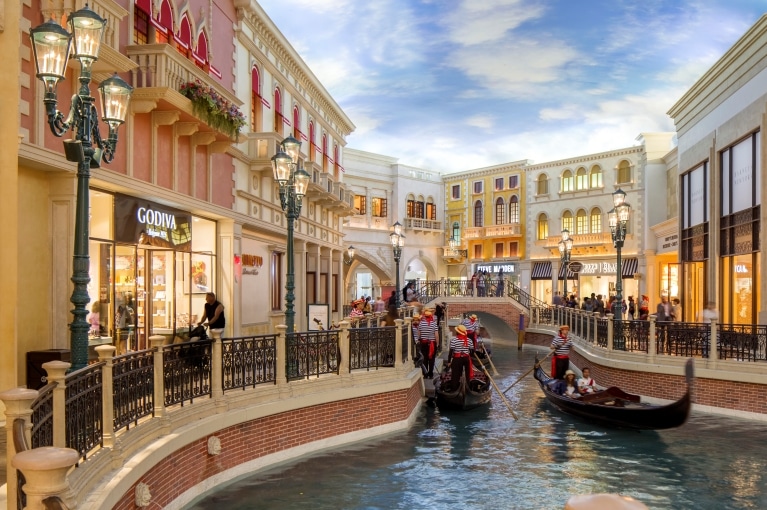 Introduction to Grand Canal Shoppes
A trip to Las Vegas, Nevada, is incomplete without experiencing the Grand Canal Shoppes at Venetian Las Vegas, an upscale shopping center that will transport you to the enchanting city of Venice. Located inside The Venetian and The Palazzo resorts, this shopping mall offers not only premium shopping opportunities but also a complete entertainment experience that includes dining, sightseeing, and unique performances. With its intricate design, gondola rides, and picturesque settings, the Grand Canal Shoppes promises an unforgettable adventure for visitors from all walks of life.
Architecture and Design
The Grand Canal Shoppes, spread over an area of 875,000 square feet, features an impressive Italian-inspired architecture that evokes the romantic charm of Venice. The shopping center is designed to mimic the city's famous landmarks, such as St. Mark's Square, the Rialto Bridge, and winding canals. As you stroll through the mall, you'll be mesmerized by the cobblestone walkways, the painted ceilings that resemble a clear blue sky, and the ornate street lamps that illuminate the space.
Shopping Experience
Home to more than 160 signature stores and luxury brands, the Grand Canal Shoppes offers an unparalleled shopping experience for fashion enthusiasts and luxury seekers. Here, you can find high-end brands like Louis Vuitton, Jimmy Choo, Burberry, and Michael Kors, as well as popular names like Sephora, Banana Republic, and Swarovski. The shopping mall caters to a variety of tastes and budgets, making it a perfect destination for visitors who are looking to indulge in some retail therapy.
Dining Options
The Grand Canal Shoppes boasts a wide range of dining options to satisfy the taste buds of food lovers. You can choose from casual eateries to upscale restaurants, offering an assortment of cuisines from around the world. Notable options include Buddy V's Ristorante, a charming Italian eatery by renowned baker Buddy Valastro; CUT by Wolfgang Puck, an elegant steakhouse offering a refined dining experience; and SUGARCANE raw bar grill, which serves up globally-inspired small plates perfect for sharing. If you're in the mood for a sweet treat, don't miss Carlo's Bakery, where you can sample delicious pastries and desserts from the famous Cake Boss.
Entertainment and Attractions
The Grand Canal Shoppes is more than just a shopping destination; it's also an entertainment hub that offers visitors a diverse range of activities and experiences. One of the must-try attractions is the gondola rides, which take you on a journey through the mall's indoor canals. Accompanied by a singing gondolier, the ride allows you to soak in the beauty of the Venetian-inspired surroundings while gliding through the serene waters.
Additionally, the shopping center features live performances by talented street performers, known as "Streetmosphere." These artists, dressed in period costumes, entertain visitors with music, dance, and acrobatics, creating a vibrant and festive atmosphere. You can also enjoy a variety of art displays and exhibitions that showcase the work of local and international artists.
For those seeking a break from shopping and entertainment, the TAO Asian Bistro and Nightclub is an ideal spot to unwind. This multi-level venue offers a stylish dining experience, followed by a lively nightclub where you can dance the night away.
Special Events and Programs
The Grand Canal Shoppes regularly hosts special events and programs for the enjoyment of its visitors. From seasonal celebrations like the Venetian Carnival to charity events and fashion shows, there's always something happening at this bustling shopping center. The mall also offers various rewards and loyalty programs, such as the Grazie Rewards, which provides exclusive benefits and discounts for its members. By signing up for the program, shoppers can take advantage of special promotions, earn points, and enjoy various perks like complimentary valet parking, access to members-only events, and priority reservations at participating restaurants.
Accessibility and Amenities
The Grand Canal Shoppes is dedicated to providing a comfortable and convenient experience for all visitors. The shopping center is wheelchair accessible, with elevators and ramps available throughout the property. Additionally, the mall offers a range of amenities and services to cater to the needs of its guests, including free Wi-Fi, ATMs, currency exchange, and a concierge desk to assist with any inquiries or requests.
For families visiting the shopping center, there are also stroller rentals, family restrooms, and a designated nursing room to ensure a pleasant and hassle-free experience.
Getting There and Parking
The Grand Canal Shoppes at Venetian Las Vegas is conveniently located on the famous Las Vegas Strip, making it easily accessible by car, taxi, or public transportation. If you're driving, you can take advantage of the complimentary self-parking facilities available at The Venetian and The Palazzo resorts. Valet parking services are also offered for a fee, with the option of complimentary valet parking for Grazie Rewards members.
Grand Canal Shoppes Overall
A visit to the Grand Canal Shoppes at Venetian Las Vegas is more than just a shopping excursion; it's a journey into a world of luxury, entertainment, and Venetian charm. With its diverse range of shopping, dining, and entertainment options, this upscale shopping center promises an unforgettable experience for visitors of all ages. Whether you're a local or a tourist, the Grand Canal Shoppes should be on your must-visit list when in Las Vegas.