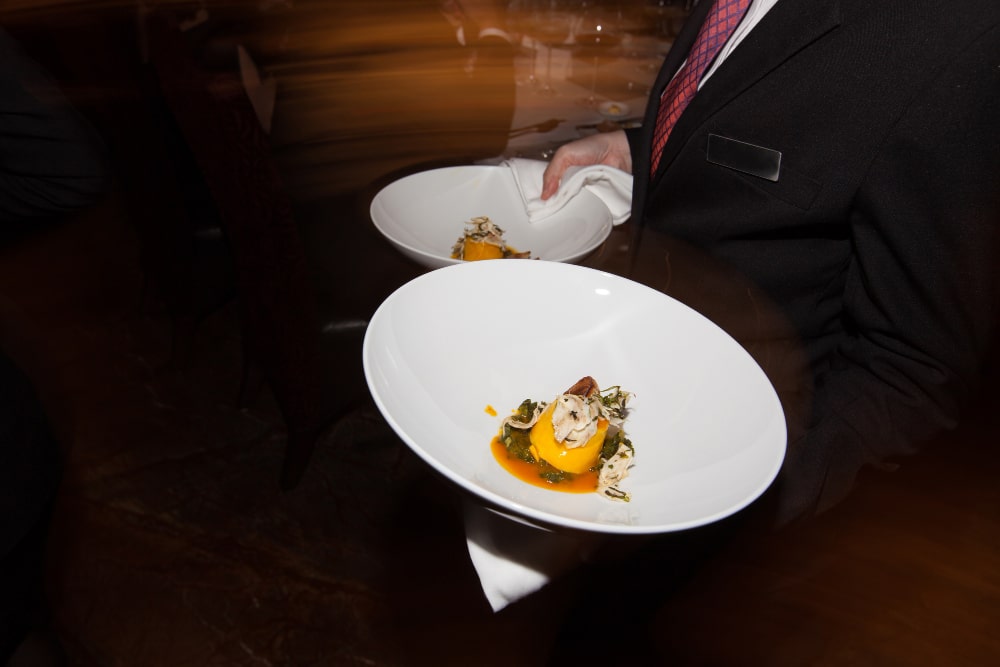 Michelin Starred Restaurants In Las Vegas
The Michelin Star program is a prestigious rating system employed by the red Michelin Guide to grade restaurants on their quality. The guide was initially developed by the Michelin tire company in France in the early 20th century, and has since become a global phenomenon. It has been widely regarded as the most influential rating system for fine dining restaurants around the world. The Michelin Star program awards one, two, or three stars to establishments, with each star representing a level of culinary excellence.
Las Vegas is home to a decent amount of Michelin Starred restaurants thanks to it's worldwide appeal and ability to invest in attracting some of the best chefs from around the world. Here are some of the most popular Michelin-starred restaurants in Las Vegas:
Joël Robuchon at MGM Grand (3 Michelin stars)
Located within the MGM Grand, this fine dining restaurant by the late French chef Joël Robuchon is a temple of haute cuisine. The elegant Art Deco-inspired interiors set the stage for an unforgettable gastronomic experience. The restaurant offers a multi-course tasting menu, showcasing the chef's mastery of flavors and textures, using only the finest ingredients.
é by José Andrés at The Cosmopolitan (2 Michelin stars)
é by José Andrés is an exclusive dining experience within Jaleo restaurant at The Cosmopolitan. With only nine seats available, guests enjoy an intimate and interactive culinary journey led by the innovative Spanish chef José Andrés. The tasting menu features multiple courses of avant-garde dishes that celebrate Spanish cuisine with a modern twist.
Guy Savoy at Caesars Palace (2 Michelin stars)
French chef Guy Savoy's eponymous restaurant in Caesars Palace offers a luxurious fine dining experience. The elegant dining room, with views of the Eiffel Tower replica, provides a serene atmosphere to enjoy the exquisite tasting menus. Dishes feature seasonal ingredients and artful presentations, reflecting Chef Savoy's dedication to culinary excellence.
Le Cirque at Bellagio (1 Michelin star)
This iconic restaurant by the Maccioni family is located within the opulent Bellagio Resort. Le Cirque boasts an intimate and vibrant dining room with whimsical circus-inspired décor. The menu is a celebration of French cuisine with modern and innovative interpretations, accompanied by an extensive wine list.
Michael Mina at Bellagio (1 Michelin star)
Michael Mina's eponymous restaurant in the Bellagio showcases the chef's passion for seafood and vibrant flavors. The menu features a variety of contemporary dishes inspired by global cuisines. The dining room's elegant atmosphere and excellent service make it a memorable dining experience.
Picasso at Bellagio (1 Michelin star)
Named after the famed artist, Picasso offers a sophisticated dining experience with original Picasso artwork adorning the walls. Executive Chef Julian Serrano presents French and Spanish-inspired dishes crafted from seasonal ingredients. The dining experience is enhanced by the restaurant's view of the iconic Bellagio fountains.
Restaurant Guy Savoy at Caesars Palace (1 Michelin star)
A sister location to the acclaimed Guy Savoy in Paris, this elegant restaurant serves contemporary French cuisine in a refined setting. The multi-course tasting menu features dishes that showcase Chef Guy Savoy's culinary expertise and attention to detail. The extensive wine list and top-notch service further elevate the dining experience.
History of Michelin Guide
The Michelin Guide was first published in 1900 by André Michelin and his brother Édouard, founders of the Michelin tire company. The guide was intended to help motorists find food and lodging while traveling throughout France, promoting the use of automobiles and consequently, the demand for tires. The first editions of the guide were given away for free, and included useful information such as maps, petrol stations, and mechanics.
In 1926, the guide introduced a rating system for restaurants based on their quality, and in 1931, the now-famous Michelin Star system was established. Initially, the system rated restaurants with a single star. By 1936, the three-star system was fully developed, and has remained in place ever since. Today, the Michelin Guide is published in multiple languages and covers over 30 countries, with a team of anonymous inspectors who evaluate establishments worldwide.
Criteria and Evaluation
The Michelin Star program evaluates restaurants based on the quality of food, the skill and creativity of the chef, the consistency of the dishes, and the overall dining experience. The guide does not take into consideration the restaurant's decor or service quality when assigning stars.
The anonymous Michelin inspectors are professionals with extensive experience in the culinary world. They dine at a restaurant multiple times to ensure consistency and provide a comprehensive review. Inspectors pay for their meals and maintain their anonymity to ensure impartiality and objectivity in their assessments.
Michelin Star Ratings
The Michelin Star system assigns ratings from one to three stars, with each star carrying a distinct meaning:
One Star: A very good restaurant in its category, offering cuisine prepared to a consistently high standard. A good place to stop on your journey.
Two Stars: Excellent cooking, worth a detour. Skillfully and carefully crafted dishes of outstanding quality.
Three Stars: Exceptional cuisine, worth a special journey. Distinctive dishes precisely executed, using top-quality ingredients.
The Michelin Star program also includes the Bib Gourmand category, which recognizes establishments offering high-quality food at a more affordable price point, and the Plate designation, which acknowledges restaurants that provide a good meal without earning a star.
Impact and Controversy
Receiving a Michelin Star can have a significant impact on a restaurant's reputation and success. A single star can attract global attention and dramatically increase reservations, while a two or three-star rating can propel a restaurant into the upper echelon of the culinary world. The Michelin Star can also have a positive effect on a chef's career, as it is considered one of the highest honors in the industry.
However, the Michelin Star program has not been without controversy. Critics argue that the guide is Eurocentric and biased toward French cuisine, neglecting other global culinary traditions. The intense pressure and scrutiny that come with being awarded a star can also lead to stress and mental health issues for chefs, some of whom have asked to be removed from the guide.
Michelin Guide – In Summary
The Michelin Star program is a renowned and influential rating system that has shaped the world of fine dining for over a century. While its criteria and methodology have sparked debate, there is no denying the prestige and recognition associated with receiving a Michelin Star. As the guide continues to expand its coverage to more countries and culinary traditions, it is evolving to become more inclusive and diverse. Despite the controversies, the Michelin Star program remains an important benchmark for culinary excellence and a source of aspiration for chefs and restaurateurs worldwide.