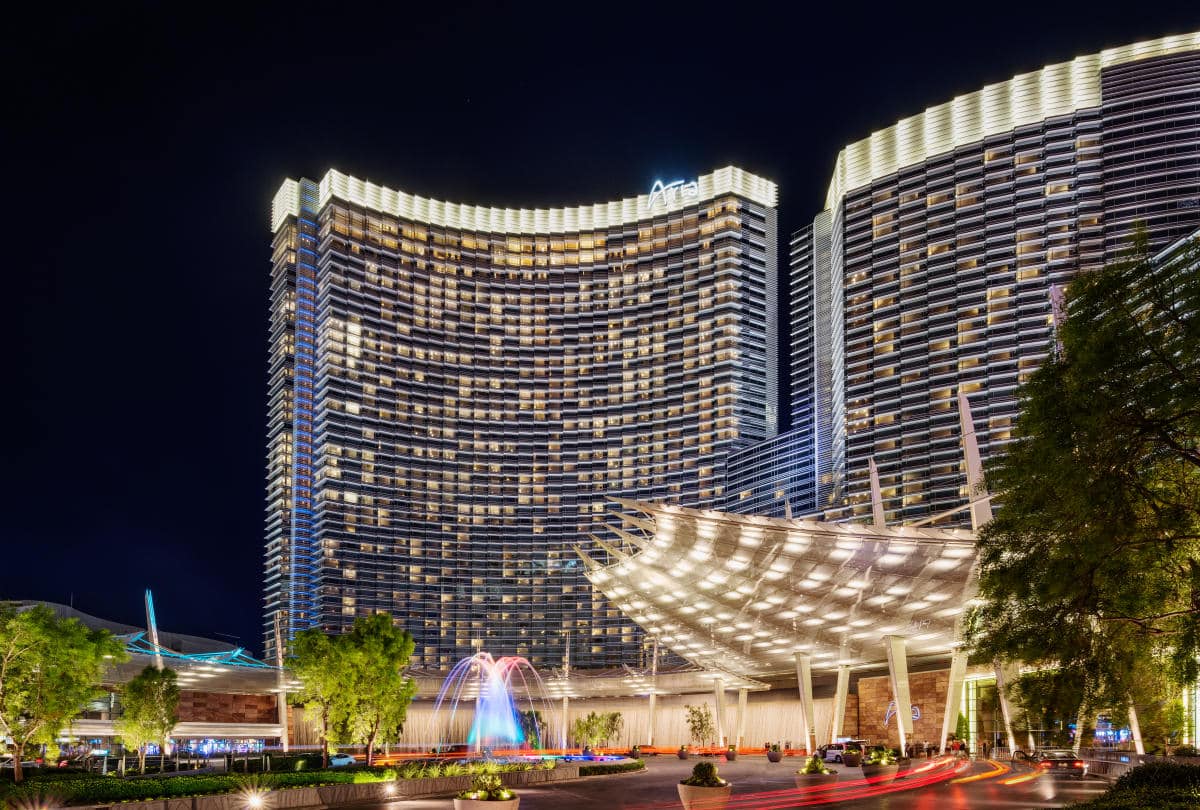 History of The Aria Las Vegas
Aria Resort and Casino, an iconic symbol of luxury and entertainment in the heart of the Las Vegas Strip, opened its doors to the public on December 16, 2009. A part of the $8.5 billion CityCenter complex, Aria is a contemporary and sophisticated destination for visitors seeking a luxurious getaway in the entertainment capital of the world.
The CityCenter project, which Aria is a part of, was conceived in the early 2000s as a joint venture between MGM Resorts International and Dubai World's Infinity World Development. The project's initial goal was to create an urban, mixed-use complex that would revitalize the southern end of the Las Vegas Strip.
Designed to be the crown jewel of CityCenter, Aria Resort and Casino emerged as a lavish and state-of-the-art venue that would redefine the Las Vegas experience. With the involvement of multiple world-renowned architects and designers, including Pelli Clarke Pelli Architects, Rafael Viñoly, and Kohn Pedersen Fox Associates, the stage was set for Aria's grand unveiling.
Construction of Aria began in 2006, after the demolition of the historic Boardwalk Hotel and Casino. The project faced numerous challenges, including the global financial crisis of 2007-2008 and the subsequent downturn in the Las Vegas economy. Despite these obstacles, the project moved forward, with construction continuing at an impressive pace.
One of the primary goals of Aria's construction was to prioritize environmental sustainability. The resort was designed to meet the U.S. Green Building Council's LEED (Leadership in Energy and Environmental Design) Gold certification. Aria became the largest hotel in the world to achieve this prestigious certification, showcasing a commitment to sustainable design and construction practices.
Aria Resort and Casino officially opened its doors on December 16, 2009, amidst great anticipation and excitement. The resort, covering 4,004 rooms and suites spread over 61 floors, redefined luxury with its opulent interior design and state-of-the-art amenities. The casino, spanning 150,000 square feet, featured a vast array of table games and slot machines, offering a world-class gaming experience for visitors.
Aria Hotel Details
Fees at The Aria Hotel

Resort Fee
$51.02 + Tax
Room Deposit
$150/Day
Self-Parking
$18-$24/Day*
Valet Parking
$35-$40/Day*
Early Check-In
$50
Late Check-Out
$50
Pet Fee
N/A
Rollaway Bed
$50/Night
*Parking is free for registered hotel guests as well as holders of  a Pearl and above mLife card.
Rooms at The Aria Hotel
Upon arrival at Aria Las Vegas, guests are greeted by the hotel's iconic glass facade, which offers a sleek and inviting atmosphere. Inside, the spacious and stylish lobby sets the tone for an elegant experience. Aria boasts over 4,000 guest rooms, suites, and Sky Suites, all designed with comfort and sophistication in mind.
The Deluxe Rooms, measuring an impressive 520 square feet, are both modern and inviting, featuring floor-to-ceiling windows that offer stunning views of the Las Vegas Strip. The rooms are equipped with advanced technology, such as one-touch room controls that allow guests to adjust lighting, temperature, and curtains with ease. The plush bedding, oversized bathrooms with deep-soaking tubs, and the ultra-modern design make for a truly relaxing and enjoyable stay.
For a more opulent experience, the Tower Suites and Sky Suites provide additional space and luxury amenities. These include private entrances, personalized concierge services, and access to the exclusive Sky Pool. With breathtaking views and a heightened sense of exclusivity, these suites offer the ultimate Las Vegas retreat.
Below is a list of room types available at Aria Las Vegas, along with descriptions of each room. Please note that the specific offerings and design may change over time, so it is always best to check with the hotel directly for the most up-to-date information.
Restaurant Options
Aria Las Vegas offers an impressive array of dining options, catering to a variety of tastes and preferences. With over 20 restaurants, bars, and lounges, guests can indulge in a culinary journey that spans the globe.
Catering to fine dining enthusiasts, the resort is home to several award-winning restaurants, including Jean Georges Steakhouse, Carbone, and Sage. At Jean Georges Steakhouse, the renowned Chef Jean-Georges Vongerichten presents a menu that masterfully blends traditional steakhouse fare with innovative flavors and techniques. Carbone offers a nostalgic Italian-American dining experience, transporting guests to mid-20th century New York with its richly appointed dining room and classic Italian cuisine. Sage, helmed by Chef Shawn McClain, showcases farm-to-table cuisine with a focus on locally sourced ingredients and innovative flavor combinations.
For those seeking more casual dining options, Aria also offers a range of eateries, such as Julian Serrano Tapas, Herringbone, and the Aria Café. Julian Serrano Tapas features an array of Spanish-inspired small plates, while Herringbone offers a coastal-inspired menu of fresh seafood and California-inspired dishes. The Aria Café is a great option for a relaxed meal, serving American classics with a contemporary twist.
Guests can also enjoy a diverse selection of bars and lounges, such as the ALIBI Ultra Lounge, The Chandelier, and the Lobby Bar. These elegant spaces provide the perfect setting for a pre-dinner cocktail or a nightcap. Here's a look at all of the popular restaurants offered at Aria Las Vegas with a brief summary of each:
Carbone: Carbone is a celebrated Italian-American restaurant that takes you back in time with its vintage New York atmosphere. The menu features classic dishes like veal parmesan, spaghetti and meatballs, and chicken scarpariello, all prepared with high-quality ingredients and exceptional skill.

Carbone Restaurant

Bardot Brasserie: Inspired by French cuisine, Bardot Brasserie serves a range of delicious dishes in a stylish Parisian setting. The menu includes favorites like steak frites, onion soup gratinée, and escargots, as well as an extensive wine list and innovative cocktails.

Bardot Brasserie Restaurant

Julian Serrano Tapas: Created by award-winning chef Julian Serrano, this vibrant Spanish restaurant offers an array of tapas-style dishes, perfect for sharing. The menu includes traditional favorites like paella and patatas bravas, alongside an impressive selection of Spanish wines and sangria.

Julian Serrano Restaurant

Catch: Catch is a trendy seafood restaurant with a focus on sustainability and locally sourced ingredients. The menu features an assortment of sushi, sashimi, and ceviche, as well as wood-fired seafood dishes and a variety of vegetarian options.

Catch Restaurant

Blossom: Blossom is an elegant Chinese restaurant offering a mix of traditional and modern dishes, including dim sum, Peking duck, and wok-fried specialties. The sophisticated atmosphere and attentive service make it a perfect choice for a special night out.

Blossom Restaurant

Aria Patisserie: ARIA Patisserie is the hotel's signature pastry shop, offering a delightful array of sweet treats, including French pastries, gourmet chocolates, and artisanal gelato. It's an ideal spot to grab a quick bite, enjoy a leisurely coffee, or pick up a delicious gift.

Patisserie

Lemongrass: Lemongrass serves contemporary Thai cuisine in a chic and modern setting. The menu includes a variety of Thai favorites like pad Thai, green curry, and tom yum soup, as well as an extensive selection of Asian-inspired cocktails.

Lemongrass Restaurant

Jean Georges Steakhouse: This upscale steakhouse by renowned chef Jean-Georges Vongerichten offers a sophisticated dining experience. The menu features prime steaks, seafood, and an impressive wine list. The restaurant's stylish design and attentive service make it a popular choice for special occasions.

Jean Georges Restaurant

The Buffet at ARIA: The Buffet at ARIA offers a diverse array of international cuisine, including Italian, Asian, American, and seafood dishes. With live cooking stations, a carving station, and an extensive dessert selection, there's something to satisfy every craving.
Entertainment
Aria Las Vegas offers a diverse range of entertainment options, ensuring that guests are never short of things to do. The resort's prime location on the Las Vegas Strip allows for easy access to the city's most popular attractions, shows, and nightlife.
One of the standout entertainment options at Aria is the immersive Zarkana by Cirque du Soleil. This visually stunning show combines acrobatics, dance, and music to create a unique and captivating experience. The state-of-the-art Aria Theatre provides an intimate setting, allowing audiences to truly immerse themselves in the performance.
For those seeking a more interactive experience, Aria's casino offers a thrilling gaming environment with over 150,000 square feet of gaming space. With a wide variety of table games, slot machines, and a dedicated poker room, there is something for every level of player. The sophisticated, high-energy atmosphere of the casino floor is sure to captivate even the most discerning of guests.
In addition to the casino, Aria also features the Jewel Nightclub, an upscale nightlife destination spanning over 24,000 square feet. With world-class DJs, luxurious VIP areas, and state-of-the-art audio and visual technology, Jewel Nightclub provides an unforgettable experience for those looking to dance the night away.
Wellness and Relaxation
After a day of exploring the Las Vegas Strip or a night of revelry, Aria offers several options for relaxation and rejuvenation. The Aria Spa & Salon is a tranquil oasis, featuring an extensive menu of treatments, such as massages, facials, and body wraps. The spa also boasts a full-service salon, offering hair, nail, and makeup services to ensure guests look and feel their best.
For those looking to maintain their fitness routine while away from home, the Aria Fitness Center is well-equipped with state-of-the-art cardio and strength training equipment. Personal training sessions and group fitness classes are also available for those seeking additional guidance and motivation.
Guests can also enjoy Aria's three ellipse-shaped pools, surrounded by lush landscaping and comfortable lounge chairs. The Sky Pool, exclusive to Sky Suites guests, offers an elevated pool experience, complete with personalized service and luxurious amenities.
Shopping
Aria Las Vegas is a shopper's paradise, featuring a collection of high-end boutiques and luxury retail outlets. The Shops at Crystals, located adjacent to the resort, is a premier shopping destination, housing some of the world's most sought-after designer brands, such as Gucci, Louis Vuitton, and Prada. This upscale retail center also offers a selection of fine dining restaurants and art galleries, making it a one-stop destination for luxury and entertainment.
Aria Overall & FAQ
Aria Resort & Casino is truly a modern marvel in the heart of the Las Vegas Strip. With its striking architecture, luxurious accommodations, world-class dining, and diverse entertainment options, Aria Las Vegas provides an unforgettable experience for its guests. The resort's commitment to exceptional service, sophisticated design, and attention to detail sets it apart from other Las Vegas hotels, making it a must-visit destination for anyone seeking the ultimate Sin City experience.
Q. What is Aria known for?
A. Aria Las Vegas is known for having some of the best room technology and automation as well as a great collection of restaurants including Carbone.
Q. Is Aria connected to Bellagio?
A. Yes via the Aria Express tram you can easily go between both hotels.
Q. Is Aria an expensive hotel?
A. Aria is one of the top hotels in Vegas so yes it's relatively expensive. Expect to pay anywhere from $175 to $400 per night for a room at the property.
Q. Is Aria worth staying at?
A. Aria is still one of the top properties in Las Vegas and is definitely worth a stay if you find a deal on rooms.
Q. Is there a dress code at Aria Las Vegas?
A. Not officially and you can enter with any clothing you'd like (within reason) but some restaurants may enforce a dress code.