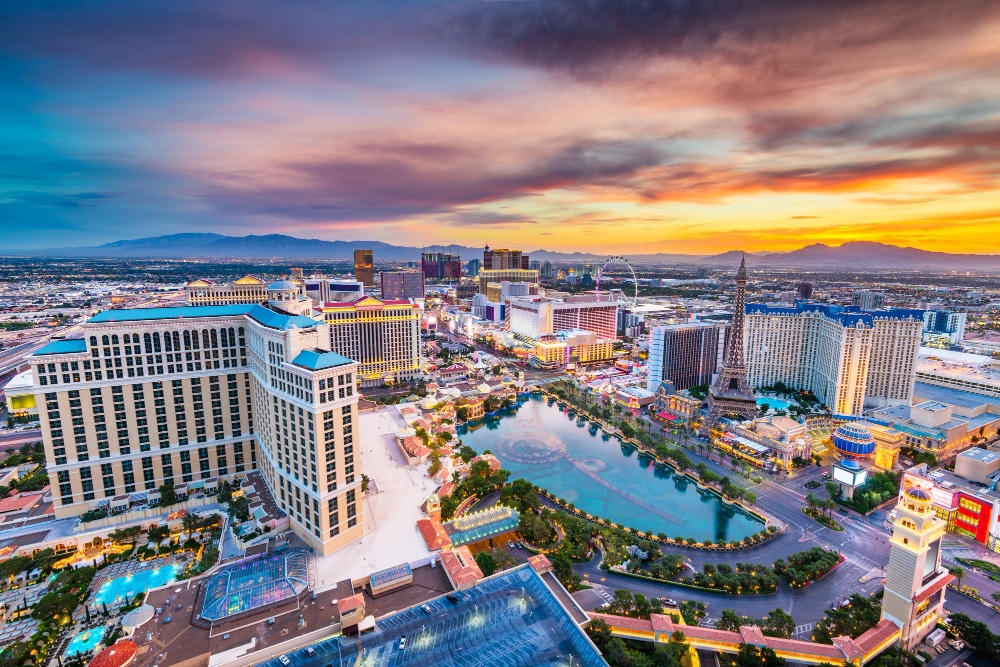 Our Guide To Vegas Hotels
Below you'll find our in-depth reviews of all of the best hotels that Las Vegas has to offer. Each review contains a detailed history of the property, listings of room types and restaurants, as well as other information on shopping, entertainment, gaming and other amenities relevant to each property.
| Hotels | Rooms | Founded |
| --- | --- | --- |
| Aria | 4,004 | 2009 |
| Bellagio | 3,933 | 1998 |
| Cosmopolitan | 3,027 | 2010 |
| Caesars Palace | 3,970 | 1966 |
| Planet Hollywood | 2,494 | 2000 |
| Venetian/Palazzo | 7,092 | 1999 |
| Wynn/Encore | 4,748 | 2005 |
| Resorts World | 3,506 | 2021 |
| Circa Hotel | 512 | 2020 |
| NY NY | 2,024 | 1997 |
| MGM Grand | 6,852 | 1993 |
| Mandalay Bay | 4,426 | 1999 |
| Excalibur | 3,981 | 1990 |
| Treasure Island | 2,885 | 1993 |
| Luxor | 4,407 | 1993 |
Main Considerations When Choosing A Vegas Hotel
Las Vegas is a world-famous destination known for its luxurious hotels, dazzling casinos, and vibrant entertainment scene. When planning a trip to Sin City, it's essential to choose the right hotel to ensure a memorable experience. This comprehensive guide will discuss the key factors to consider when booking a Las Vegas hotel, ensuring you make the most of your stay.
Location
Las Vegas is divided into several areas, each with its unique charm and attractions. The main areas to consider when booking a hotel include:
a) The Strip: The iconic Las Vegas Strip is home to the most famous hotels and casinos. If you want to be in the heart of the action, this is the place to stay. Keep in mind that prices tend to be higher on the Strip.
b) Downtown/Fremont Street: Downtown offers a more laid-back, vintage Vegas atmosphere. Hotels in this area are generally more affordable, and the famous Fremont Street Experience is an exciting attraction.
c) Off-Strip: Hotels located off the Strip are ideal if you're looking for a quieter stay or a more budget-friendly option. Many of these hotels provide free shuttles to the Strip and other popular locations.
Budget
Las Vegas offers a wide range of hotels to suit every budget. Consider the following options:
a) Budget-friendly: Circus Circus, Excalibur, and The LINQ are among the affordable options on the Strip, while Downtown properties like El Cortez and The D offer even more wallet-friendly rates.
b) Mid-range: The Mirage, MGM Grand, and Planet Hollywood offer a balance between price and luxury, with exciting on-site attractions and well-appointed rooms.
c) Luxury: Hotels like the Bellagio, Wynn, and ARIA are known for their opulence, featuring lavish rooms, fine dining, and exclusive entertainment options.
Amenities
When booking a hotel, consider the amenities that matter most to you. Some factors to keep in mind include:
a) Pools: Las Vegas is known for its extravagant pool complexes. If you're visiting during the warmer months, ensure your chosen hotel has a pool that meets your needs – whether it's a family-friendly option or a party-centric day club.
b) Dining: Many hotels feature an array of on-site dining options, from casual eateries to Michelin-starred restaurants. Research the available options to ensure the hotel's culinary offerings align with your tastes and dietary preferences.
c) Fitness Centers and Spas: If maintaining your fitness routine or indulging in spa treatments is important to you, check whether your chosen hotel has a well-equipped gym and spa facility.
d) Family-friendliness: If you're traveling with children, look for hotels offering family-friendly amenities such as kid's clubs, babysitting services, and dedicated pool areas for children.
Entertainment
Las Vegas is famous for its world-class entertainment, and many hotels feature their own shows, clubs, and attractions. Consider the following when booking:
a) Shows: Las Vegas is home to renowned productions such as Cirque du Soleil, magic shows, and musical performances. If you're interested in a specific show, consider booking a hotel that hosts it or is within close proximity.
b) Casinos: Most hotels on the Strip have their own casinos, but they vary in size and atmosphere. Research the gaming options and ambiance before booking, especially if you're a dedicated gambler.
c) Nightlife: Las Vegas is famous for its clubs and bars. If you're looking to experience the city's nightlife, consider booking a hotel with popular clubs and bars on-site or nearby.
Transportation
Las Vegas offers various transportation options, including taxis, rideshares, monorail, and buses. Consider the following when booking your hotel:
a) Proximity to attractions: If you plan to visit specific attractions, check their location relative to your hotel. Walking is possible along the Strip, but distances can be deceiving. Choosing a hotel close to your must-see spots will save time and money on transportation.
b) Access to public transportation: The Las Vegas Monorail runs along the east side of the Strip, providing convenient access to many hotels and attractions. The Deuce bus also serves the Strip and Downtown areas. If you don't plan on renting a car, consider a hotel near public transportation stops.
c) Parking: If you're driving or renting a car, check whether your chosen hotel offers free or paid parking. Many hotels have started to charge for parking, so factor this cost into your budget.
Resort Fees
Many Las Vegas hotels charge a daily resort fee, which covers amenities like Wi-Fi, fitness center access, and local phone calls. Resort fees can range from $20 to $45 per day, plus tax, and are generally not included in the advertised room rate. Ensure you factor this additional cost into your budget when comparing hotels.
Seasonality and Special Events
Las Vegas experiences fluctuations in room rates depending on the season and local events. Consider the following when booking:
a) Seasonality: Room rates tend to be higher during weekends, holidays, and major conventions. Booking during the week or avoiding peak travel times can result in significant savings.
b) Special Events: Large events, such as the Consumer Electronics Show (CES) or major boxing matches, can cause room rates to skyrocket. Research local events and their dates to avoid potential price hikes.
With countless hotel options available, finding the perfect Las Vegas accommodation can be a challenge. By considering factors such as location, budget, amenities, entertainment, transportation, resort fees, and seasonality, you'll be well-equipped to choose the ideal hotel for your needs. With a little research and planning, your Las Vegas trip can be an unforgettable experience tailored to your preferences.