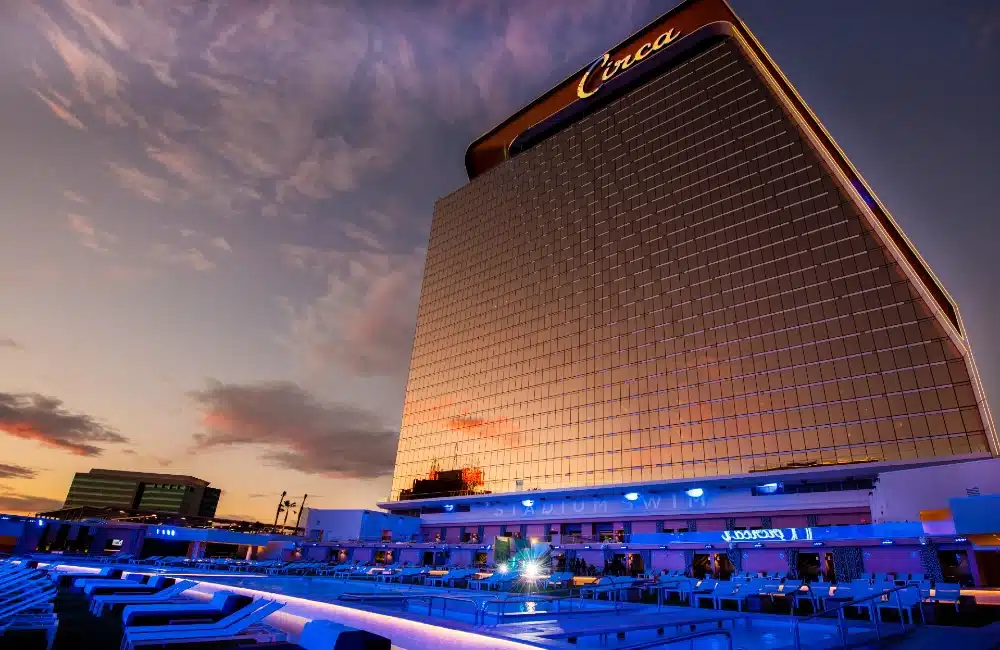 History of Circa Las Vegas
Circa Resort & Casino is a unique landmark in the landscape of Las Vegas, marking a significant milestone in the city's architectural and cultural history. This 1.25 million-square-foot property was the first new build in Downtown Las Vegas in over three decades, ushering in a new era while paying homage to the city's rich past.
The concept of Circa came to life thanks to the vision of Derek and Greg Stevens, brothers and successful entrepreneurs with a deep love for Las Vegas. Their goal was to develop a resort that encapsulates the spirit of the city, while bringing something completely fresh to the downtown area.
The name "Circa" itself reflects this vision, representing a nod to the eras of Las Vegas that have led to today. This philosophy is infused into every element of the resort, from its design to its amenities.
Construction of the resort began in February 2019 on the historic 18 Fremont Street site, which previously housed the Las Vegas Club, Mermaids Casino, and the Glitter Gulch strip club. The Stevens brothers purchased these properties and closed them by 2017 to make way for Circa's construction.
The resort was designed by Steelman Partners, an international architectural firm renowned for its work in designing innovative gaming and hospitality venues. The team faced the challenge of blending the old with the new, and they rose to the occasion by creating a resort that feels both familiar and excitingly new.
Circa officially opened its doors on October 28, 2020, during a challenging time amidst the global COVID-19 pandemic. However, despite these hurdles, the resort was received with much enthusiasm. The hotel portion, which consists of 777 rooms and suites, began accepting reservations from December 28, 2020.
Circa Hotel Details
Fees at Circa Las Vegas

Resort Fee
$39.49 + Tax
Room Deposit
$50/Day
Self-Parking
$25/Day*
Valet Parking
$15/Day*
Early Check-In
No Fee
Late Check-Out
No Fee
Pet Fee
N/A
Rollaway Bed
$50/Night
Rooms at Circa Hotel
Circa has a ton of different room categories, but here's a look at some of the more popular rooms offered at the property:
The Single King Room: This room is elegantly designed, featuring a king-size bed and a host of modern amenities, including a 55″ flat-screen TV, refrigerator, and a safe. The decor is a mix of deep blues and purples with gold accents, reflecting the resort's overall aesthetic.
The Double King Room: This room offers twoking beds and the same amenities as the Single King. It's perfect for guests who need a bit more sleeping space or are traveling with family or friends.
Circa Bunk Pad: The Bunk Pad Suite provides a fun and unique lodging experience with two bunk beds and a total of 4 beds in total. This room is ideal for larger groups looking for a comfortable and stylish stay.
Founder's Suite: This luxurious suite is a tribute to the classic Vegas hospitality of yesteryears. It features a king-size bed, a lounge area, a wet bar, and stunning views of downtown Las Vegas. Additional amenities include an in-room safe, a refrigerator, and multiple 65″ flat-screen TVs.
Circa Suite: The Circa Suite is a deluxe accommodation option that offers unparalleled comfort and elegance. It features a spacious king bedroom, a separate living area with a wet bar, and a dining area. With multiple 65″ flat-screen TVs and stunning views of Las Vegas, it provides a truly immersive Vegas experience.
Circa's Studio: This accommodation is perfect for travelers seeking a balance of comfort and luxury. It features a king-size bed, a dedicated workspace, and a comfortable seating area. The studio is equipped with modern amenities, including a 55″ flat-screen TV, a refrigerator, and an in-room safe.
Restaurant Options
Barry's Downtown Prime: This fine dining restaurant is run by renowned Chef Barry S. Dakake. The restaurant serves steak and seafood in a sophisticated ambiance that harkens back to vintage Las Vegas. The menu includes top-quality cuts of beef, fresh seafood, and an impressive wine list.
8 East: Inspired by metropolitan Asian food markets, 8 East offers a variety of Pan-Asian dishes with a contemporary twist. The menu includes shared plates, hand-made dim sum, wok-fired specialties, and sushi.
Saginaw's Delicatessen: This is the first Las Vegas restaurant from Detroit restaurateur Paul Saginaw. Saginaw's Delicatessen offers a classic deli menu featuring sandwiches, soups, salads, and breakfast dishes, available 24/7.
Victory Burger & Wings Co.: Located in Circa's sportsbook, this sports bar offers high-quality burgers, wings with a variety of sauces, and a great selection of draft beers. The restaurant also boasts a view of the massive sportsbook screen.
Project BBQ: The first permanent food truck on the Fremont Street Experience, Project BBQ serves Carolina-style barbecue with a Las Vegas flair. The menu includes smoked brisket, pulled pork, chicken, and more.
Jack Pots Coffee Shop: A coffee shop developed in partnership with Michigan's own Zingerman's Coffee, Jack Pots serves coffee, tea, and light refreshments. It's the perfect place for a quick pick-me-up before hitting the casino floor or exploring downtown Las Vegas.
Location
Situated at the heart of Downtown Las Vegas, Circa boasts of an enviable location. It's positioned on the bustling Fremont Street, filled with vintage neon signs, street performers, and the energy that Downtown Las Vegas is famous for. It offers easy access to local attractions such as the Mob Museum, Neon Museum, and the Fremont Street Experience light show, making it a perfect spot for tourists seeking to experience classic Las Vegas.
Design and Aesthetics
The design of Circa gives a nod to Vegas's past while firmly looking towards the future. The lobby area showcases a mesmerizing display of vintage Las Vegas memorabilia and glitzy, modern chandeliers. The overall decor of the hotel is a tasteful blend of old-school charm and contemporary elegance. The 777 rooms and suites are spacious, with a stylish and comfortable design that features a rich palette of deep blues and purples offset by pops of gold and silver.
Amenities and Entertainment
Stadium Swim
The six-tiered Stadium Swim is the crown jewel of Circa's amenities. This multi-level pool amphitheater operates 365 days a year and can accommodate up to 4,000 people. With a 143 x 40-foot, high-definition screen, it offers an unparalleled sports viewing experience. It's a place to swim, sunbathe, and soak in the best of Las Vegas.
Circa Sportsbook
For sports betting enthusiasts, Circa's three-story sportsbook, the largest in the world, is a dream come true. With its high-resolution screens and a broadcast studio, the Circa Sportsbook takes sports betting to a new level.
Food and Beverage
Circa offers a variety of dining experiences, ranging from fine dining to casual eateries. Barry's Downtown Prime is a standout, serving mouth-watering steak and seafood in a suave, vintage Vegas ambiance. For casual dining, Saginaw's Delicatessen and Victory Burger & Wings Co. offer hearty, flavorful meals.
Casino
The two-story casino at Circa lives up to the Las Vegas reputation. With 1,350 slot machines and 49 table games, it offers something for both casual gamers and high rollers. The ambiance is lively and energetic, complete with cocktail service and live music.
Circa Overall & FAQ
Circa Resort & Casino is a worthy addition to the Las Vegas scene, serving as a bridge between the city's vibrant past and its dynamic future. Its unique amenities, excellent dining options, high-quality service, and the nostalgic yet modern ambiance make it a must-visit for anyone looking to experience the best of what Las Vegas has to offer. Whether you're a seasoned Vegas visitor or a first-timer, Circa promises an experience that's truly one for the books.