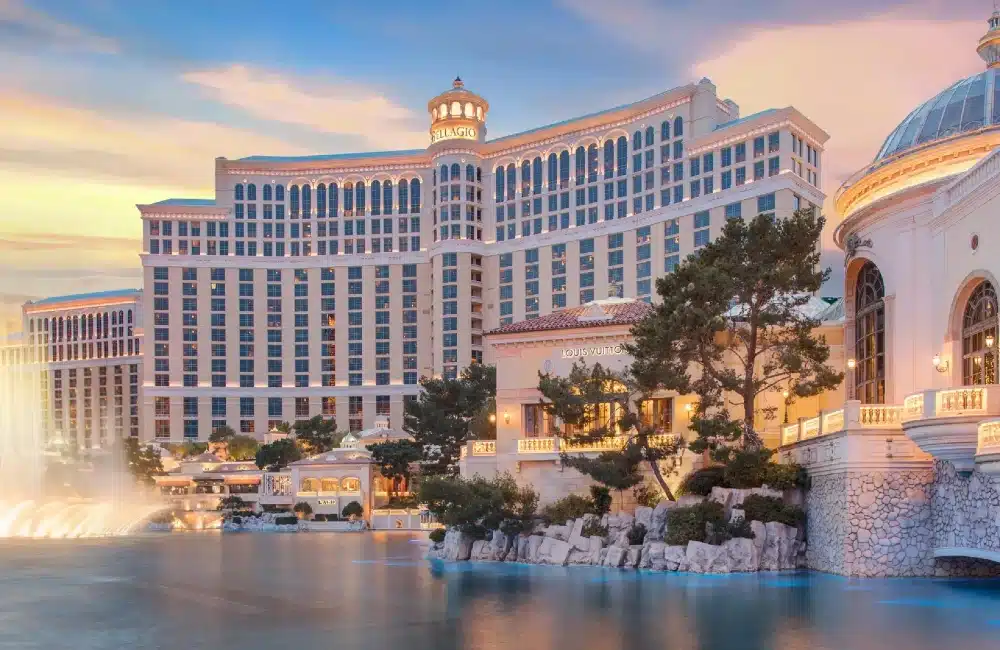 History of The Bellagio Las Vegas
The Bellagio Hotel and Casino is an iconic symbol of luxury and elegance on the Las Vegas Strip. Known for its upscale amenities, exquisite art collection, and world-class entertainment, the Bellagio has become synonymous with extravagance and sophistication. This article will provide a brief history of the Bellagio, exploring its conception, construction, and impact on the city of Las Vegas.
The idea for the Bellagio was conceived by Steve Wynn, a real estate mogul and casino developer who played a crucial role in revitalizing the Las Vegas Strip in the 1990s. Wynn, the former owner of Mirage Resorts, sought to create a property that would redefine the concept of a luxury resort in Las Vegas. He envisioned the Bellagio as a modern-day version of the Lake Como town of Bellagio in Italy, complete with its own lake and lush, Mediterranean-inspired landscaping.
To bring his vision to life, Wynn purchased the 126-acre site of the former Dunes Hotel and Casino in 1992 for $75 million. He enlisted the help of renowned architect Jon Jerde to design the resort, and construction began in 1995. At a cost of approximately $1.6 billion, the Bellagio was one of the most expensive hotel and casino projects in history at the time.
The Bellagio opened its doors on October 15, 1998, amidst much fanfare and media attention. Celebrities and high rollers flocked to the property, eager to experience the hotel's world-class dining, entertainment, and gaming offerings. The grand opening ceremony featured a firework display and performances by Cirque du Soleil, setting the stage for the Bellagio's enduring reputation as a leader in entertainment and luxury.
Bellagio Hotel Details
Fees at The Bellagio Hotel

Resort Fee
$51.02 + Tax
Room Deposit
$150/Day
Self-Parking
$18/Day*
Valet Parking
$40/Day*
Early Check-In
$50
Late Check-Out
$50
Pet Fee
N/A
Rollaway Bed
$50/Night
*Parking is free for registered hotel guests as well as holders of  a Pearl and above mLife card.
Rooms at The Bellagio
The Bellagio features 3,933 guest rooms and suites, each meticulously designed to provide the utmost in comfort and style. Ranging from the 510-square-foot Resort King Room to the expansive 4,075-square-foot Chairman Suite, there is a lodging option to suit every preference and budget.
Each room and suite boast plush pillow-top mattresses, high-thread-count linens, and sophisticated décor that exudes elegance. The marble-finished bathrooms, complete with soaking tubs and separate glass-enclosed showers, provide a spa-like atmosphere, perfect for relaxation after a long day of exploring the Strip.
For those seeking a more exclusive experience, the Bellagio offers the Villa Privé, a secluded, invitation-only suite that provides the ultimate in privacy and personalized service. The Villa Privé features a private garden, pool, and 24-hour butler service, ensuring guests are pampered and attended to throughout their stay.
Here is an overview of the room types currently available for booking on Bellagio's website:
Resort King Room: This spacious room features a plush king-size bed, elegant furnishings, and an Italian marble bathroom with a soaking tub and a separate glass-enclosed shower. Additional amenities include a flat-screen TV, a mini-bar, and floor-to-ceiling windows with picturesque views of the Las Vegas skyline.
Resort Two Queen Room: Similar to the Resort King Room, this option offers two luxurious queen-size beds, providing extra space and comfort for those traveling with friends or family. The room is also furnished with Italian marble bathrooms, a flat-screen TV, and a mini-bar.
Fountain View King Room: This room offers all the amenities of a Resort King Room, but with an additional feature: breathtaking views of the Bellagio's iconic fountains. Floor-to-ceiling windows provide the perfect vantage point for the stunning water shows that occur throughout the day and night.
Fountain View Two Queen Room: The Fountain View Two Queen Room is similar to the Fountain View King Room, but with two queen-size beds instead of one king-size bed. Guests can enjoy the same impressive fountain views while having more space for additional travelers.
Salone Suite: The Salone Suite is a luxurious, 853-square-foot suite with a separate living area, bedroom, and Italian marble bathroom. The suite boasts a king-size bed, a large flat-screen TV, and an iHome docking station. The living area is furnished with comfortable seating, a dining table, and a wet bar, making it ideal for entertaining guests.
Bellagio Suite: This 1,020-square-foot suite features a separate bedroom with a king-size bed, a spacious living area, a dining room, a wet bar, and two Italian marble bathrooms. The suite is elegantly designed and offers unparalleled comfort and style, perfect for guests seeking a luxurious retreat.
Cypress Suite: With 1,525 square feet of space, the Cypress Suite includes a master bedroom with a king-size bed, an expansive living room, a dining area, a wet bar, and a conference room. Two Italian marble bathrooms and a powder room ensure a lavish experience for guests.
Chairman's Lounge Access Rooms: Rooms with Chairman's Lounge access offer all the amenities of their respective room types, plus exclusive access to the Chairman's Lounge, which provides a range of personalized services and complimentary food and drinks.
Restaurant Options
Bellagio Las Vegas is a gastronome's paradise, offering an incredible array of dining options from casual eateries to fine dining establishments. With an emphasis on quality and creativity, the resort's culinary offerings cater to every palate.
For those seeking an unforgettable fine dining experience, Le Cirque is a must-visit. This AAA Five Diamond restaurant, helmed by celebrated Chef Sirio Maccioni, offers a delectable menu of French cuisine, complemented by an extensive wine list and impeccable service. The whimsical, circus-inspired décor creates a lively atmosphere, making Le Cirque a memorable and enchanting dining experience.
Other noteworthy dining options include Picasso, a French and Spanish-inspired restaurant showcasing original works of art by Pablo Picasso, and Prime Steakhouse, a steak-lovers haven where succulent cuts of beef are served in a luxurious, leather-clad setting.
For more casual fare, The Buffet at Bellagio offers a tantalizing selection of dishes from around the world, including freshly-made sushi, wood-fired pizzas, and mouthwatering desserts. Guests can also grab a quick bite at Café Gelato, featuring artisanal sandwiches and gelato made in-house daily.
Below is an overview of the current restaurant choices available at The Bellagio Las Vegas:
Picasso: This Michelin-starred restaurant serves contemporary French cuisine with an emphasis on seasonal ingredients. The restaurant boasts a stunning collection of original Picasso artwork.
Le Cirque: This AAA Five Diamond restaurant serves French cuisine in a luxurious circus-themed setting. The menu features dishes like foie gras torchon and roasted duck breast.
Michael Mina: Chef Michael Mina's eponymous restaurant serves contemporary American cuisine, with an emphasis on seafood. The restaurant also features an extensive wine list.
Prime Steakhouse: This classic steakhouse serves up prime cuts of beef and other meat dishes, along with an impressive selection of wines and cocktails.
Harvest by Roy Ellamar: This farm-to-table restaurant emphasizes fresh, locally sourced ingredients in its modern American cuisine. The menu features dishes like charred octopus and roasted pork belly.
Spago: This Wolfgang Puck restaurant serves up California cuisine with a Mediterranean twist. The menu features dishes like crispy duck breast and handmade agnolotti.
Jasmine: This upscale restaurant serves traditional Chinese cuisine in an elegant setting. The menu includes dim sum, seafood dishes, and more.
Lago by Julian Serrano: This Italian restaurant features small plates and shareable dishes, along with a selection of signature cocktails. The menu includes dishes like crispy calamari and truffle risotto.
The Buffet: This all-you-can-eat buffet offers a wide range of dishes from around the world, including sushi, pizza, and seafood.
Noodles: This casual restaurant serves up Asian-inspired dishes like ramen, pho, and pad thai. The menu also includes vegetarian and gluten-free options.
Sadelle's Cafe: This New York-style deli serves up bagels, smoked fish, and other classic deli fare. The restaurant also features a bakery with fresh pastries and desserts.
Snacks: This casual eatery offers quick bites like sandwiches, pizza, and salads. The menu also includes a variety of snacks and desserts.
Gelato: This gelato shop serves up a variety of flavors, along with sorbet, coffee, and pastries.
Cafe Gelato: This cafe serves up gelato, sorbet, and coffee, along with light bites like sandwiches and salads.
Petrossian Bar: This bar and lounge serves up caviar, cocktails, and other light bites. The menu also includes a selection of teas and wines.
Entertainment
Bellagio Las Vegas offers a diverse range of entertainment options that cater to every taste, ensuring that there is never a dull moment.
The iconic Fountains of Bellagio are a must-see attraction, with choreographed water displays set to music and lights that captivate audiences day and night. The fountains, designed by WET Design, are a breathtaking spectacle that has become synonymous with the Las Vegas Strip.
Cirque du Soleil's "O" is another remarkable offering at the Bellagio. This mesmerizing aquatic show combines acrobatics, synchronized swimming, and stunning visual effects to create an unforgettable, awe-inspiring experience. With its custom-built stage that transforms from a solid surface to a pool, "O" is a testament to the incredible production value and creativity that Cirque du Soleil is known for.
For those seeking a more relaxing evening, the Bellagio Gallery of Fine Art features rotating exhibitions from renowned artists and institutions worldwide. Past exhibitions have showcased works by renowned artists such as Monet, Warhol, and Picasso, making it a must-visit destination for art enthusiasts.
The Bellagio Conservatory & Botanical Gardens, another standout attraction, offers a serene retreat from the hustle and bustle of the Strip. The gardens feature seasonal displays that are meticulously crafted with thousands of flowers, trees, and plants, creating a breathtaking and ever-changing tableau.
Nightlife
Bellagio Las Vegas is home to several upscale bars and lounges that offer an intimate and sophisticated atmosphere for guests to unwind or dance the night away. The Mayfair Supper Club, located just steps away from the Fountains of Bellagio, is a lavish and immersive dining and entertainment experience that transports guests to the golden era of glamour. With live performances ranging from jazz to pop, the Mayfair Supper Club provides an unforgettable night of music, dancing, and fine dining.
For those who prefer a more laid-back ambiance, Petrossian Bar, situated in the heart of the Bellagio, offers a refined setting to enjoy a cocktail or a glass of champagne. The bar also features a daily afternoon tea service, accompanied by the soothing melodies of a live pianist.
Gaming
The Bellagio's casino is a gaming paradise, offering an extensive selection of table games, slot machines, and a luxurious poker room. The casino floor, adorned with elegant chandeliers and rich, bold colors, exudes sophistication and glamour.
The poker room, known as "The Office" by professional players, is a high-stakes haven that has hosted the World Poker Tour's Five Diamond World Poker Classic. With its comfortable seating, complimentary beverages, and attentive staff, the Bellagio poker room provides a premium gaming experience for novices and pros alike.
Amenities and Services
Guests at Bellagio Las Vegas can indulge in a variety of luxurious amenities and services designed to enhance their stay. The resort's sprawling pool complex, inspired by the Italian countryside, features five inviting pools, whirlpools, and private cabanas, providing a refreshing oasis amidst the desert heat.
For those seeking rejuvenation and relaxation, the Spa & Salon at Bellagio offers an array of treatments, including massages, facials, and body treatments, along with a state-of-the-art fitness center. The attentive and knowledgeable staff ensure that each guest's experience is tailored to their individual needs and preferences.
Shopping enthusiasts will delight in the resort's Via Bellagio, an exclusive collection of high-end boutiques featuring brands such as Chanel, Louis Vuitton, and Gucci. With its marble flooring, skylights, and opulent décor, Via Bellagio provides a shopping experience that is as luxurious as the brands it houses.
Bellagio Overall & FAQ
Bellagio Las Vegas is a shining beacon of elegance, luxury, and extravagance that has cemented its status as an iconic destination on the Las Vegas Strip. With its stunning accommodations, world-class dining options, unparalleled entertainment, and exceptional amenities, the Bellagio offers guests a truly unforgettable experience. Whether visiting for business or pleasure, Bellagio Las Vegas is a must-visit oasis that promises to dazzle and delight.
Q. How much does the Bellagio cost per night?
A. Prices range at the Bellagio anywhere from $200 to $600 for a basic room depending on what's happening in Vegas.
Q. What is the Bellagio Hotel known for?
A. The Bellagio is known for its' fountains, conservatory and glass chandelier in its' lobby, as well as being the set for Ocean's 11.
Q. Are there any hidden fees at Bellagio?
A. There are no hidden fees, just a resort fee of $51.02 per night.
Q. Is breakfast free at The Bellagio?
A. No, breakfast is not free and is available from a variety of restaurants as well as room service.
Q. Is Bellagio a good hotel to stay at in Las Vegas?
A. In my opinion, yes it definitely is and is the best located property in the whole city.